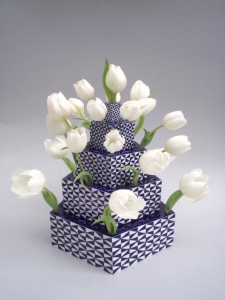 Corien Ridderikhoff (Amsterdam, 1953) is a ceramist since 1977. Her work consists primarily of various types of vases, tulip towers, urns, jars and cups. These are generally cast or built out of porcelain slabs and then decorated with geometric motifs.
For the decoration Corien most often uses a liquid-wax batik technique. For the colored areas of the design each piece is dipped in a rich indigo-blue glaze. After firing (1260 degrees C) the decorative design shows an appealing contrast between matte white and glossy deep blue. This technique also develops a tactile relief effect between the thickly glazed and the unglazed surfaces that is pleasing to the touch.
Corien also produces dinnerware of cast, high-fired (1200 degrees C) pottery, painted with pigmented engobe in polka-dot patterns using bright colors or real gold.
Some of the dinnerware is decorated with animals, feathers or patterns by Gerda van Kersbergen, a talented painter and sculptor. Another line of work in Corien's collection consists of tiles of different sizes, either individually or in combination with other tiles to form geometric panels and labyrinths.
In recent years Corien has also developed a line of jewelery and miniature vases made of porcelain. The inspiration for much of her work comes from Asian ceramics, architecture and textile patterns. For more information about Corien have a look at her curriculum vitae.
You may already know Corien Ridderikhoff and her work from the many years she was a key contributor at 'Het Kleikollektief', a workshop/retail outlet situated at Hartenstraat 19 in Amsterdam. After many successful years at this location it was time for a new start. Since October 1st, 2015, she has her own studio, located at Kloveniersburgwal 111 G.
For more details, check out the contact information section.